Pieper Electric- Waukesha Memorial Hospital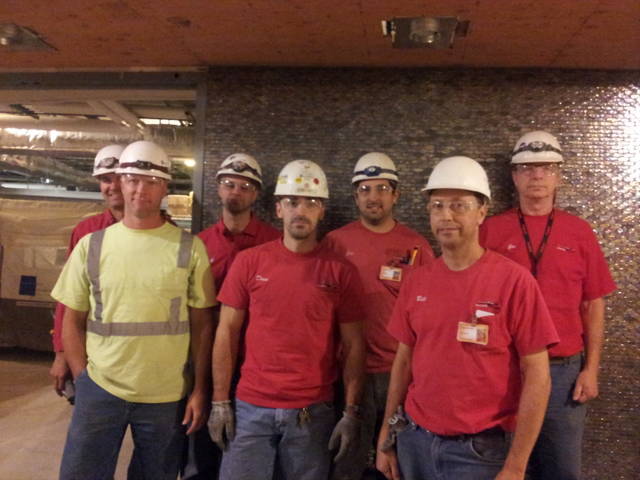 Pictured Left to Right Ken Statza, Tim Ramuta, Jeff Maas (foreman),Dave Krumrei Jr. , Joe Kirchner, Bill Richard, Jim Caldwell.
Pieper Electric Is currently working on remodeling a wing at Waukesha Memorial hospital. The project is called the 725 Grille and consists of demolition of the old wing and northeast entrance and hallway and still maintaining all essential hospital electrical systems. The new wing will feature a new entrance way, hallway area as well as a new cafeteria area, gift shop, and a new full service pharmacy.
The project presents many challenges for the crew. Working in a fully operational hospital requires a great amount of attention to the different systems as well as the well beings of the staff and patients. They try to do their jobs with the least bit of interference with the hospitals day to day duties. This requires trying to capture as must construction dust and noise as possible all while trying to be invisible to the public. Pieper has introduced very strict safety and work standards for its crews working on this type of project to achieve a safe productive job site.
Jeff Maas is the project foreman.Other crew members are Jim Caldwell Bill Richard Dave Krumrei Jr. Ken Statza, Tim Ramuta, Joe Kirchner. The job is expected to be completed in about a year.